One of the highlights of my summer was a long weekend in Emlenton, Pennsylvania. This little town (Pop. 615) was overtaken by songwriters from across the US, Canada, Netherlands and Norway.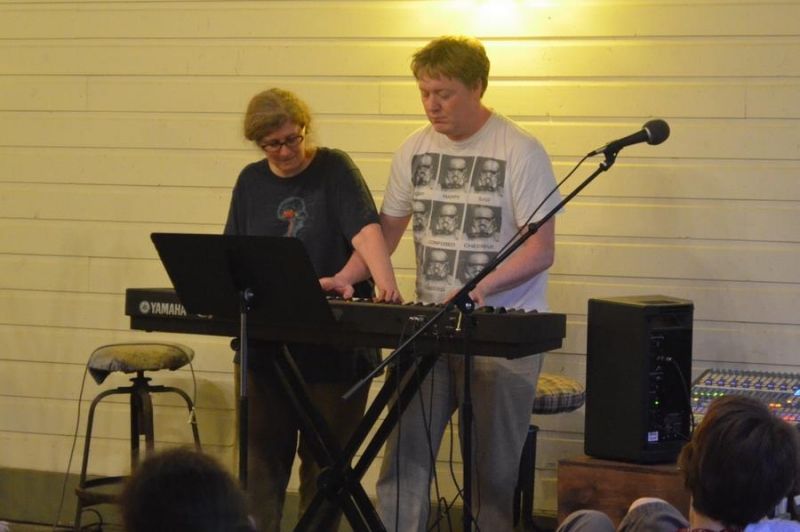 Above: Writing a four-handed piano duet with Kristian Børresen of Oslo.
Paul and Nancy Newbury of the Emlenton Mill kept us inspired with local history and vast amounts of ice cream. Music was composed on glockenspiels, dulcimers and smart-phone apps. I saw old friends, made new friends, got very little sleep and was glad for it.
Another highlight was teaching Songwriting 101 at Middle School U. We had a lively group at Jefferson Middle School. The kids wrote songs about ice cream (pattern here? Must be a summer thing), school janitors, discombobulation and dragons, among other things. Many of the students were from South Korea, and I got introduced to some new K-Pop. (I was told in no uncertain terms that they were all tired of "Gangnam Style". As with my young piano students, my songwriting students keep me current!) I'm looking forward to teaching some classes to adults this December -- see my Calendar Dates for details.
MAUI has been very active, with shows including the New Glarus Summer Festival and Reedsburg Fermentation Festival. I'll be singing, tinkling and plunking (perhaps all at the same time!) with this merry band of ukesters again in a couple of weeks at The Gardens on Madison's West side.
Now I'm getting back to doing songwriter shows, both solo and showcase, and working on some new stuff for Two Johns & A Nancy.
Finally, I have a blog now. Link is to the left. Let me know what you think. Thanks for reading!