I've been rather quiet lately, but lots of good stuff has been going on.
I've been playing bass guitar and loving it. Here's a shot of the Two Johns and a Nancy show where I debuted on Ashbory bass.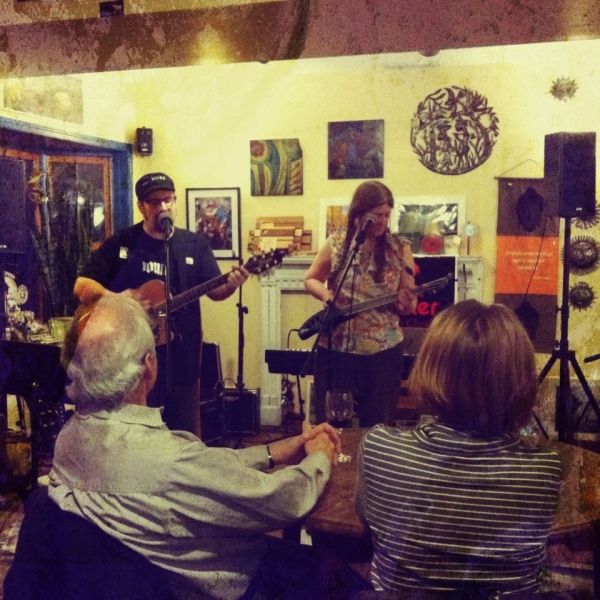 I've also started accompanying local group of ukulele enthusiasts known as MAUI. These folks have a mind-boggling repertoire and a great attitude. Join us if you're into it, or come see us in the park in New Glarus in August (and possibly popping up in your neighborhood -- check my calendar dates for details.)
On the songwriting side, I had a fruitful February Album Writing Month, finishing 19 songs, including collaborations with Stephen Wort, John Das Binky, Phil Norman, Paul Dreifus, Scott Martin, Aaron Nathans, Tim Budziszewski, Helen Robertson and Paul Hoopshank Turrell.
I'm big in New Zealand! The aforementioned Stephen Wort, of Wellington, NZ, is including our co-write, "Trying On An Alphabet" on his forthcoming album. (And previous NZ collaborator Rose Duxfield has been including our co-write "When The Fire" in her set for five years now.)
Speaking of albums, I'm starting to plan for one of my own. If you have any suggestions for songs you'd like to hear included, I'm all ears.
Summer plans include teaching keyboard classes and being a band coach for Girls Rock Camp, teaching two sessions of Songwriting 101 for Middle School U, doing the 50 Songs in 90 days challenge, and attending Fawmstock IV in Pennsylvania, among other things. And updating this website more faithfully!